Complex Product Configurator for Salesforce Revenue Cloud
KBMax
provides
super-powered
CPQ
for
Salesforce
Get the enhanced product configurator that can handle the most complex, highly variable products and works seamlessly with Salesforce.
Conquer complex product sales with KBMax visual configuration
Get the Salesforce-integrated visual configurator that can handle complex product options, pricing rules, and manufacturing data
You are facing sales and manufacturing challenges
Product complexity
Your products have many variations or options and other CPQ solutions can't handle the complex product rules.
Long sales cycles
You need a solution that cuts down on the time your sales team spends putting together accurate quotes with back-and-forth with your engineering team.
Team growth
Your sales team has grown, and increasingly harder to keep them trained on your various products, pricing and manufacturing capabilities.
Difficulty in quoting
You want to increase the success rate of the quotes that you send and make them more visually appealing.
Increased demand
The demand for your products is growing, and you need a scalable way to provide accurate quotes faster.
Unnecessary errors
You're noticing a lot of errors in the sales to manufacturing hand-off process that can be avoided.
The solution: CPQ for Salesforce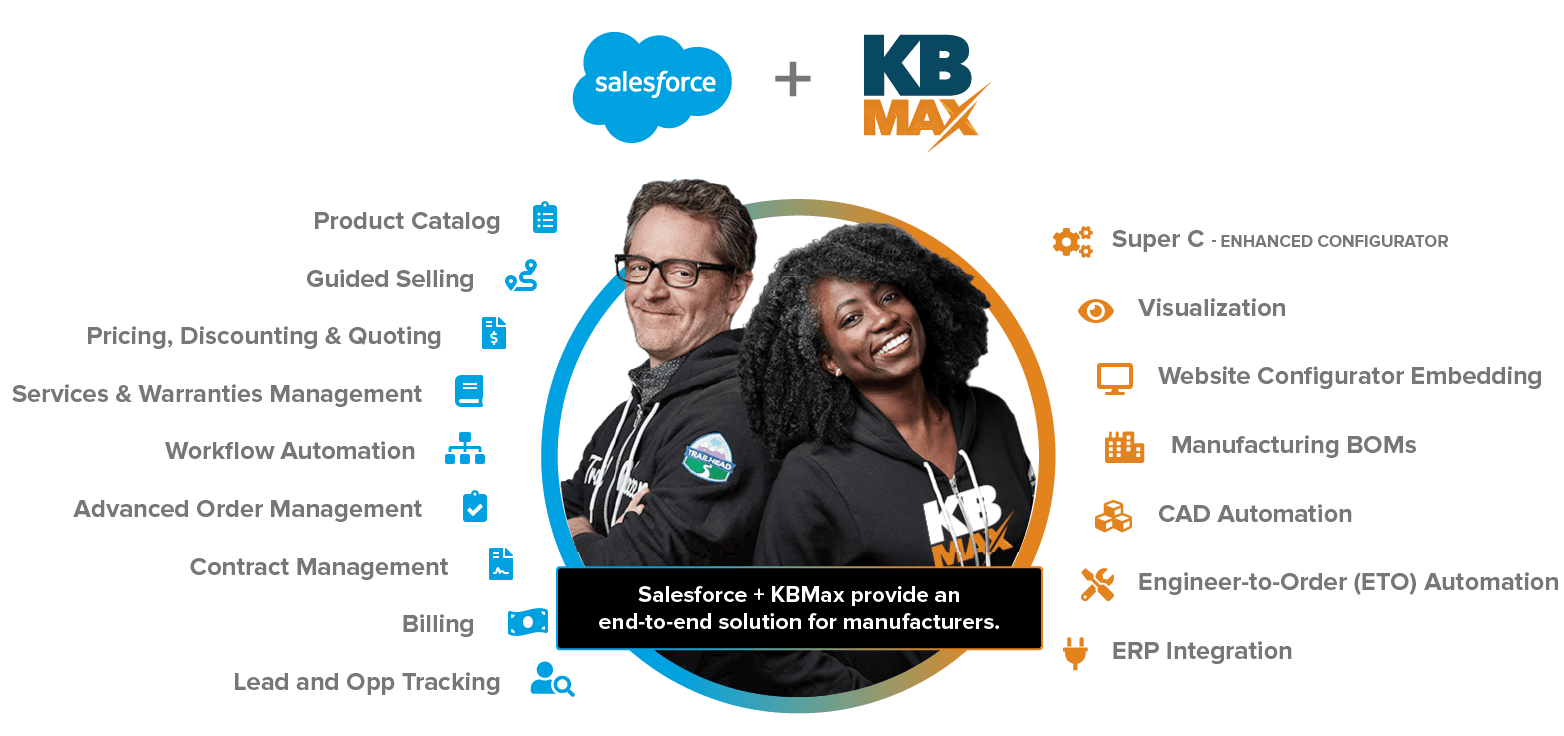 This is why you do Salesforce Revenue Cloud + KBMax
Enable your sales reps or end customer to see a visual representation of a product with the options and features they have selected. Once they configure it to their liking, CAD drawings and bill of materials are automatically generated so your manufacturing team can build the product right away.
105% increase in deal size
40% increase in conversion rate
26% increase in reps achieving quota
$2.9 million in reduced errors
Setup
Product configurators are built using our simple admin experience. Setup simple to complex product attributes and logic to enforce proper configuration of products, dynamic pricing, workflows, integrations, and more.
Configure
Your end customer or sales reps configures your product, receiving real-time visual feedback and pricing while they customize. Ensure confidence and error-free ordering as sales are guided, following your defined selling and manufacturing rules.
Automate
Automate add-on orders, price them and quickly generate proposals, contracts, and renewals. Then seamlessly integrate your invoicing, collections, taxes, and reporting.
Build
80% of orders are entered without the aid of engineering. CAD drawings and other dynamic outputs are automatically created to aid in the manufacturing process.
"Development is fun using their Snap rule engine and easy to learn. We were able to build configurators quickly."
The KBMax buyer experience
Want to get a taste for the KBMax buying experience? Just watch these short, one minute tours.
KBMax is on Salesforce AppExchange!
KBMax is the premiere Salesforce partner, providing the "Super C" for CPQ. Visit us in AppExchange to learn more!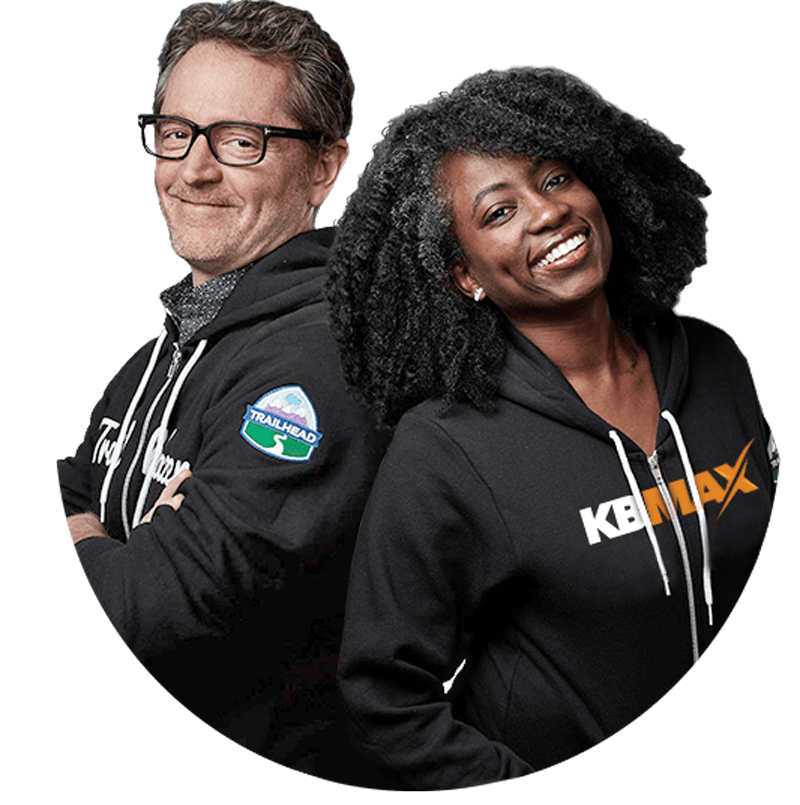 Powerful features to complete your CPQ for Salesforce vision
Add visualization, manufacturing automation, and website embedding to drive a more powerful buying experience and to drive your shop floor.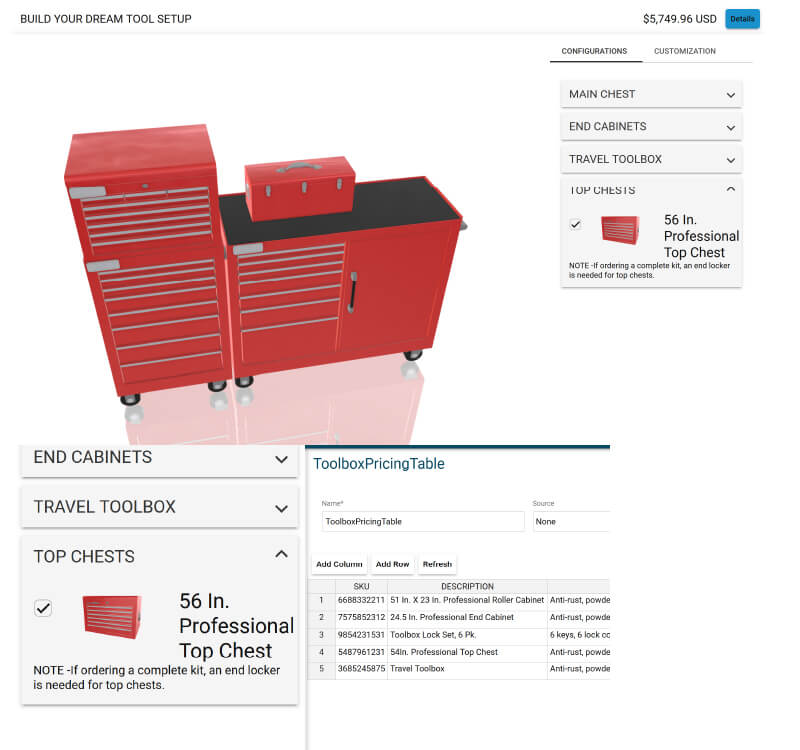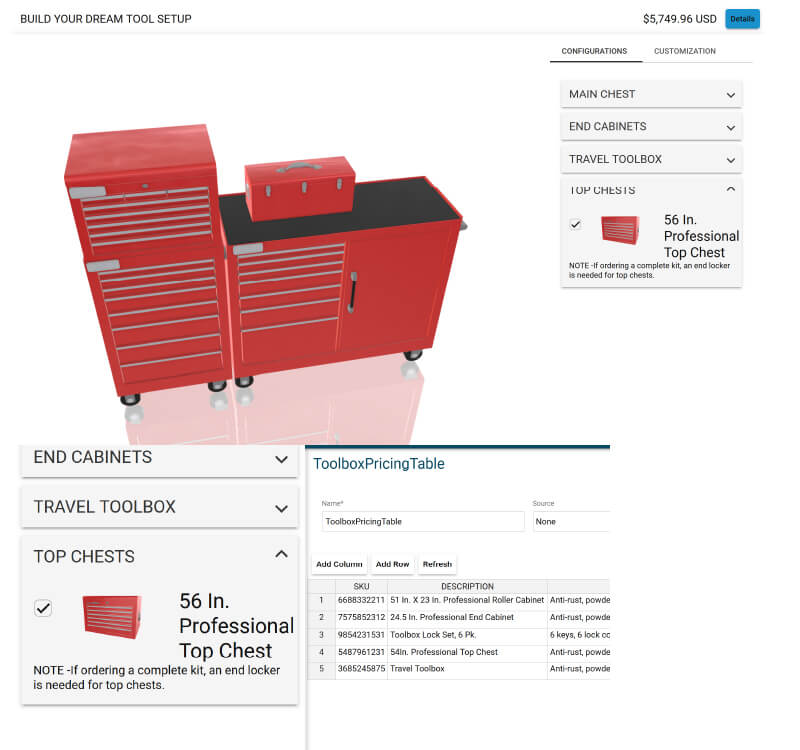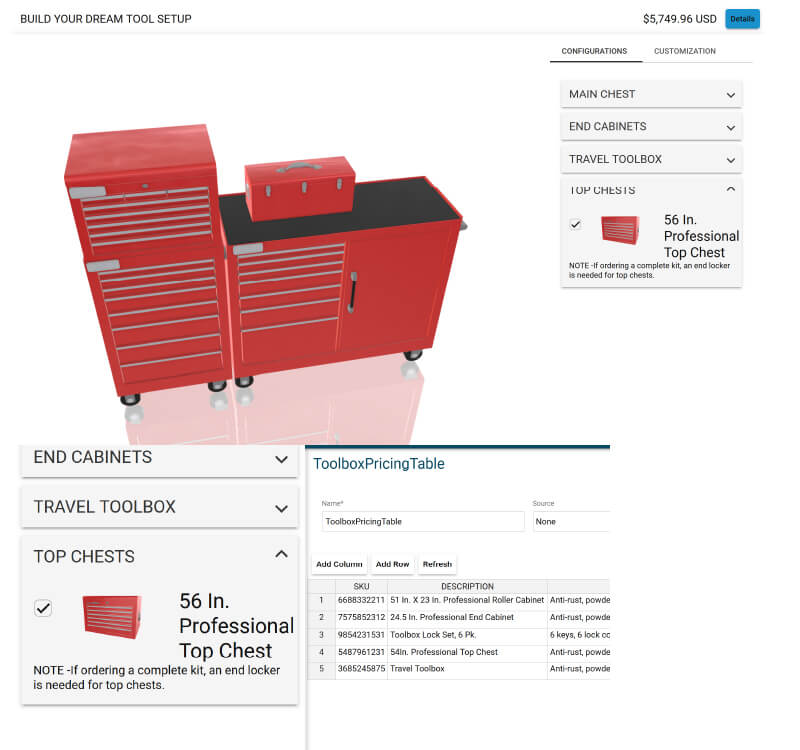 Visualize products in dynamic 2D and 3D
\Bring your products to life with our visual product configurator that dynamically changes your product visuals, options, and pricing all based on options the user is selecting.
Introduce engineer to order (ETO) automation
Automate your ETO process to reduce order errors while accelerating your transactions, saving cost, labor, and time-to-market.
Reach more buyers with website embedding
Embed KBMax product configurators on your website to allow distributors and end buyers to visualize, dynamically price, and buy your products instantly.
Connect to Salesforce and so much more
Fire KBMax configurators from inside of Salesforce for easy change management. Share order and customer data between your business-critical applications with the KBMax Connect API and MuleSoft integration platforms.
"We're able to visually present our products and then quickly manufacture them in a way we've never been able to in the past."
See how Salesforce + KBMax is helping the world's largest brands with their digital transformation.